Writing
At South Lake Primary School, we strive to provide all our pupils with a high-quality education in English, that will enable them to confidently communicate their knowledge, creative thinking and emotions effectively through their writing. We are determined to support our children in developing their vocabulary, their grammatical understanding and acquiring the knowledge of spelling patterns and rules they learn through their time at South Lake.
In the National Curriculum (September 2014), the programmes of study for key stages 1 and 2 in writing consists of 2 dimensions:
transcription (spelling and handwriting)
composition (articulating ideas and structuring them in speech and writing).
In addition, pupils need to be able to plan, revise and evaluate their writing.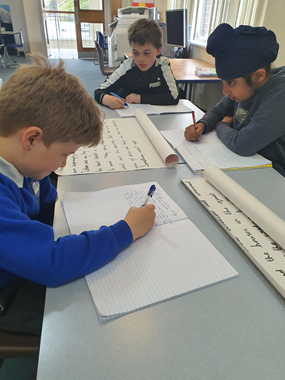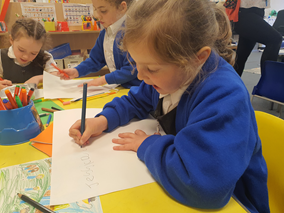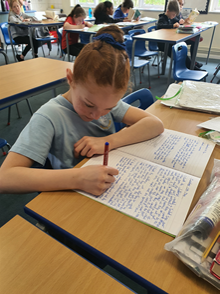 TRANSCRIPTION
At South Lake we recognise the importance of equipping our pupils with a sound knowledge of the relationship between phonics, word structure and spelling structures.
Each year group teaches these specific features from the statutory programmes of study for spelling, grammar and punctuation (see attachments below)
This year, our Year 6 pupils have been given the opportunity to trial the 'Spelling Shed' online platform to support their understanding of spelling structures.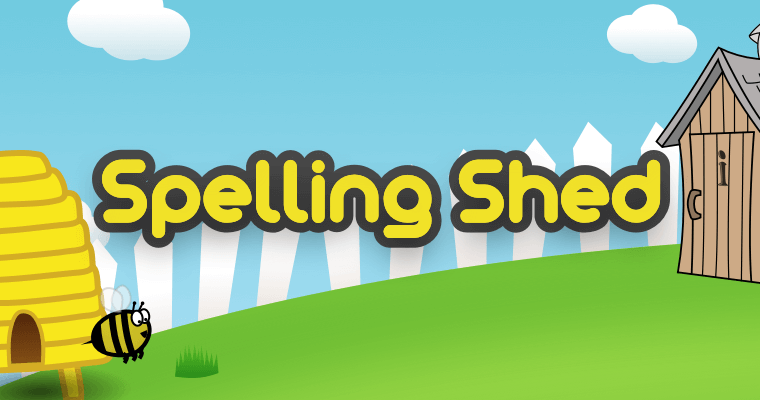 Here are some of their comments:
"Spelling Shed has helped me get 100% in my spelling tests and I can use them in my writing as well!"
"The competition is tough but really fun and my spellings have really improved"
After the success of this trial we are happy to announce that we will be rolling this programme out to the pupils of Key Stage 2 – so watch this space!
Throughout school, we adopt a cursive handwriting style, not only to aid children's presentation but also to support motor memory for the 'feel' of words which supports and enhances children's spelling.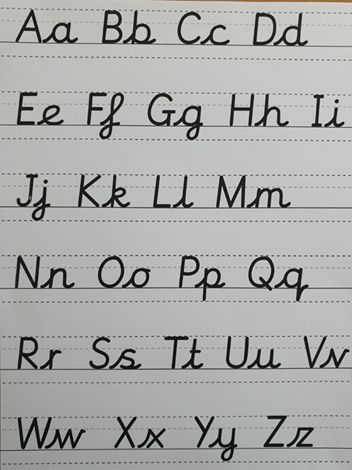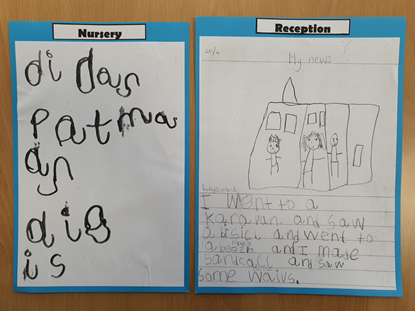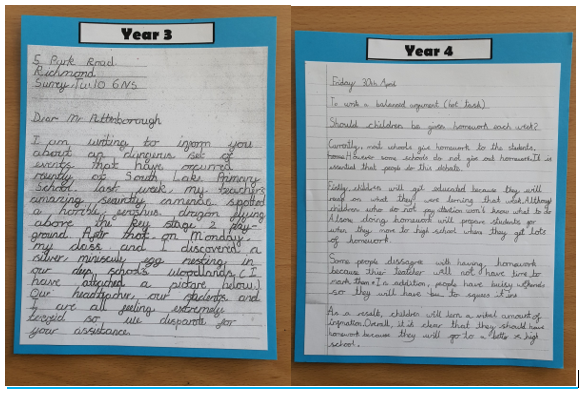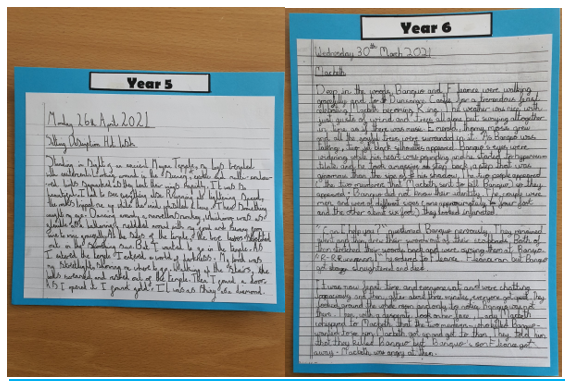 COMPOSITION
Vocabulary
At South Lake we are striving to increase our pupil's knowledge and use of high-quality vocabulary and recognise the value of attending to vocabulary development. Across the curriculum and embedded in all lessons, pupils are taught subject specific words (Tier 2) and high frequency words used in written texts (Tier 3).
English Lessons
We understand the importance of providing children with a purpose and audience for their writing and introduce new units through interesting and creative 'hooks' which will engage the children from the beginning.
All children are provided with opportunities to plan and create effective compositions, refining their writing through a progression of editing strategies and gaining an understanding of the features of different genres of writing.
We maintain the importance of 'oracy' is fundamental in supporting our pupil's writing, allowing opportunities to enhance children's vocabulary; understand the relationship between words and supporting them in consciously controlling their speaking and writing using Standard English.
From year 1 - 6 we follow a sequence of lessons: