Early Years - Nursery and Reception
At South Lake, it is our intent that children who enter our EYFS begin their lifelong learning journey by developing physically, verbally, cognitively and emotionally whilst embedding a positive attitude to school and a love of learning.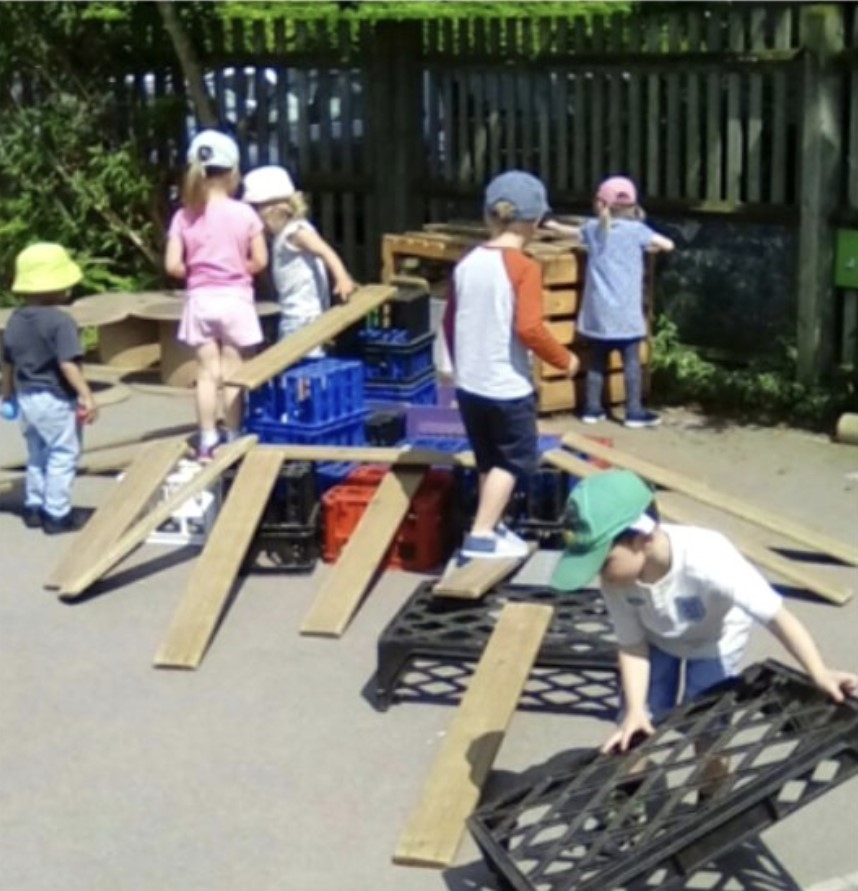 We place a huge emphasis on talk (oracy) at South Lake. Oracy is about having the vocabulary to say what you want to say and the ability to structure your thoughts so that they make sense to others. We promote oracy through giving prompts for questions, targeted questioning, echo talk, group discussions, friendship bench and making oracy key to develop the steps to success in line with the four Oracy strands (cognitive, linguistic, physical and emotional).
The principles that guide the work in the EYFS are grouped into 4 themes:
A unique child
Positive relationships
Enabling Environments
Learning and Development
The EYFS Curriculum consists of the seven areas of Learning and Development; three core and four specific areas.
Core Areas
The three prime areas of learning are:
Personal, Social and Emotional Development
Communication and Language
Physical Development
Specific areas:
Mathematics
Literacy
Understanding of the World
Expressive Arts and Design
Our set up
At South Lake Reception we operate as one unit, your child will be allocated a class teacher and a base classroom. Through the day your child will be able to move between the two classrooms and outside, participating in a creative curriculum which promotes the unique child by offering extended periods of play and sustained thinking following their interests and ideas.
We offer continuous provision to the children, this is a constant environment that is safe for them to explore whilst challenging their learning. It allows the children the freedom to explore and become independent in making choices. This provision can be accessed both indoors and outdoors to ensure children are getting the maximum benefits from all areas.
Some examples of areas in our classrooms are our book corners, art and craft, maths, science/ discovery, writing and construction areas.
At South Lake Nursery we operate a Key Person approach.
Your key person will:
Help your child become familiar with the setting so that your child feels safe and confident.
Build trust and respect with your child.
Encourage your child and support them in developing positive relationships between children across the Nursery.
Liaise with you regularly to make sure your child's needs are being met appropriately.
Reading / Phonics
In our EYFS, we teach reading using synthetic phonics, following the Little Wandle Letters and Sounds program; this is then applied throughout the rest of the school to consolidate what has been learnt. Within daily phonic sessions, children have the opportunity to revisit previous learning and practise and apply new skills in structured but engaging ways.
Reading is taught through regular book sharing, modelling fluency and expression and picking out vocabulary. There is a rich, diverse set of core texts available for the children to choose to read. Adults read with groups of children, targeting precise areas for development.
At South Lake we follow the White Rose scheme for Maths. It is aimed at one thing: helping every child to understand, enjoy and succeed in maths. We do this by developing understanding. By truly understanding each maths concept and by mastering learning one step at a time, everyone can succeed through practical, greater depth activities, laying a solid foundation in this subject.
South Lake's Forest School gives all our children the opportunity to be involved in stimulating, hands on experiences which help to develop their self-esteem, confidence and responsibility for their environment and the people around them. We encourage the children to take informed, self-calculated risks and choices to ensure their own and their friend's safety.
Our full and rich programme of physical development focuses on both gross and fine motor skills, providing the children with a solid foundation on which they learn and develop writing.
At South Lake we follow these exciting themes:
Nursery

Reception

Autumn 1

Marvellous Me

Marvellous Me

Autumn 2

Traditional fairy tales

Fabulous festivals

Spring 1

Animals

Earth and the universe

Spring 2

Growing

Earth and the universe

Summer 1

Out and About

Living World

Minibeasts

Summer 2

Superheroes

Living World

Plants